Check out our
helpful hints
section for information to help you pick the product that's best for you.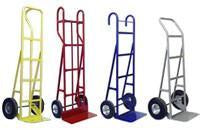 Material Handling
Are you moving furniture or heavy equipment? Find the best hand truck, dolly cart, service cart or moving trolley. Saving-space options available : folding cart or hand truck and folding dolly.
You can use filters to narrow down your search and find the perfect fit.
Sorry, we couldn't find any products.