Check out our
helpful hints
section for information to help you pick the product that's best for you.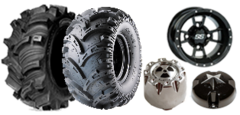 Tires and Rims
Find the best ATV, UTV tires and rims : Carlisle, ITP, Maxxis, Kenda, STI. Tires for motorcycle, quad, trailer, side by side, four wheeler, dirt bike, golf cart, motocross. Agricultural and construction tires.
You can use filters to narrow down your search and find the perfect fit.
Item # TTA281015 AR33 AR

TTA281015 AR33 AR

Manufacturer: ARISUN
Item # TTA251012 TM AR

TTA251012 TM AR

Manufacturer: ARISUN